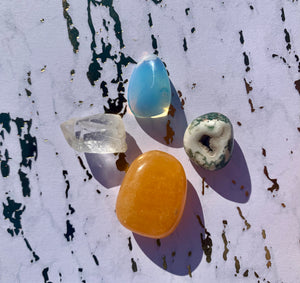 A selection of (4) handpicked crystals to encourage more Energy + Vitality into your life. No two crystals are alike, which is what makes each set special. Please note that the crystals in the photo are of the average size but may vary slightly between sets.
We ethically source our crystals and minerals from only small miners, giving them the opportunity to have better selling prices, while also bringing prosperity into their small community. All products are ethically-sourced in support of a Long Island local, Native American Shaman. Each item is diligently cleansed and blessed prior to shipment. 
The Energy + Vitality Set comes in a pouch containing the following crystals, as well as their relative descriptions:
OPALITE – The spiritual meanings of Opalite are quick mood boosts, the ability to turn a frown into a smile, and the light of a clear blue sky. Opalite is subtle yet highly energetic.  It is ideal for meditation.  Opalite improves communication on all levels, especially the spiritual.  It removes energy blockages of the chakras and meridians. Emotionally, Opalite helps by assisting during transitions of all kinds.  It engenders persistence and gives us strength in verbalizing our hidden feelings.  It can also help us to be successful in business. 
TREE AGATE – A highly supportive stone that boosts the immune system and regulates the balance of water in the body.  Tree Agate helps to clear energy blockages in the Nadis (energy channels) to allow for a greater flow of this energy throughout the body.  By opening up these pathways, Tree Agate can help connect to the natural cycles in life, thereby opening one up to a flow of abundance and prosperity. Agates carry a quiet energy that works on the subtle bodies, and are great for achieving stability and balance in many aspects of one's life.  Agates tend to work behind the scenes on the cause, instead of the symptom, of an issue.  Agate is believed to improve mental functions and can help where issues of clarity and stability are concerned.  Agate is also helpful in overcoming negative emotions by bringing love into the chakras.  Although they work very slowly and deliberately, this gentle nature of Agate helps them to have a lasting impact.
ORANGE CALCITE - An incredibly energizing and cleansing stone, particularly for the lower chakras, or energy centers, concerned with our feelings of belonging in the world, being connected to others and the planet, and our creativity. It is an excellent stone to choose to balance the emotions and release feelings of fear and anxiety.
CLEAR QUARTZ - Known as the "master healer" and will amplify energy and thought, as well as the effect of other crystals.  It absorbs, stores, releases and regulates energy.  Clear Quartz draws off negative energy of all kinds, neutralizing background radiation, including electromagnetic smog or petrochemical emanations.  It balances and revitalizes the physical, mental, emotional and spiritual planes.
Tag @crystalconscience - Share your experience or steps you are taking to cultivate this energy.