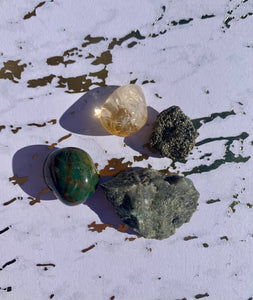 A selection of (4) handpicked crystals to encourage more abundance and prosperity into your life. No two crystals are alike, which is what makes each set special. Please note that the crystals in the photo are of the average size but may vary slightly between sets.
We ethically source our crystals and minerals from only small miners, giving them the opportunity to have better selling prices, while also bringing prosperity into their small community. All products are ethically-sourced in support of a Long Island local, Native American Shaman. Each item is diligently cleansed and blessed prior to shipment. 
The Abundance Set come in a pouch containing the following crystals, as well as their relative descriptions: 
CITRINE - A premier stone of manifestation, imagination, and personal will. Carrying the power of the sun, it is warm and comforting, energizing and life giving. It stimulates the chakras like the sunlight of spring, clearing the mind and stirring the soul to action. Its frequency awakens creativity and imagination, and sustains the process of transforming dreams and wishes into tangible form. 
BLOODSTONE - This powerful stone is considered to bestow the wearer with good health and long life. It's also a stone that can inspire and strengthen the energy of courage—be it in simple everyday actions or for a greater cause in life. Bloodstone invites the wisdom to know when to withdraw from specific situations, and when to keep persevering.
EMERALD - A remarkable support stone for the workplace or home. It increases mental acuity, strengthens memory and inspires eloquence in speech. Natural Emerald, or tumblestone, held for five minutes a day brings rapid recall of facts, and is ideal for occupations where visionary insight is a significant benefit. It enkindles success in business 
PYRITE - Often called "Fool's Gold," though there is nothing foolish about this mineral. Within its gleaming beauty is a stone of hidden fire, one that can be sparked to life by striking it against metal or stone. An Earth element, it also resonates with Fire energy, symbolizing the warmth and lasting presence of the sun and the ability to generate wealth by one's own power. It is masculine in nature, a stone of action, vitality and will, and taps into one's abilities and potential, stimulating the flow of ideas. It brings confidence and the persistence to carry things through to completion.
Tag @crystalconscience - Share your experience or steps you are taking to cultivate this energy.