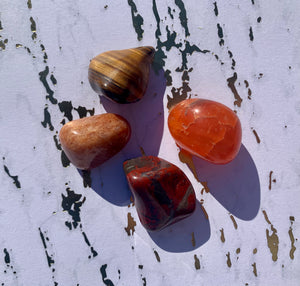 A selection of (4) handpicked crystals to encourage more Inner Strength into your life. No two crystals are alike, which is what makes each set special. Please note that the crystals in the photo are of the average size but may vary slightly between sets.
We ethically source our crystals and minerals from only small miners, giving them the opportunity to have better selling prices, while also bringing prosperity into their small community. All products are ethically-sourced in support of a Long Island local, Native American Shaman. Each item is diligently cleansed and blessed prior to shipment. 
The Inner Strength Set comes in a pouch containing the following crystals, as well as their relative descriptions:
CARNELIAN - A stabilizing stone, Carnelian restores vitality and motivation, and stimulates creativity.  It gives courage, promotes positive life choices, dispels apathy and motivates for success.  Carnelian is useful for overcoming abuse of any kind.  It helps in trusting yourself and your perceptions.  It overcomes negative conditioning and encourages steadfastness.  Carnelian improves analytic abilities and clarifies perception.  It sharpens concentration and dispels mental lethargy.  Protects against envy, rage and resentment.  Calms anger, banishes emotional negativity and replaces it with a love of life.  Carnelian boosts fertility and stimulates sexuality.
TIGERS EYE – It stimulates taking action, and helps you to make decisions with discernment and understanding and unclouded by your emotions. It is known to give you courage, self-confidence and strength of will. It is an effective stone to assist you to accomplish goals. If you are prone to criticizing your own actions, you may be experiencing a lack of self-worth. This stone may help you, as it will infuse you with confidence, brightness and optimism that may relieve these feelings of lack.
BRECCIATED JASPER - A stone of strength and vitality. Use Brecciated Jasper as a worry stone to take advantage of its calming and nurturing properties. It can be used to bring mental clarity and focus to a previously scattered event, experience or life in general. Brecciated Jasper stimulates the Root and Sacral Chakras in addition to cleansing and stabilizing the auric field. It removes negativity from any space, returning it to its original source. While it is said that Brecciated Jasper can stimulate the rise of the Kundalini, it has a tendency to add stability to this energy (due to the Hematite inclusion). This type of Jasper is a wonderful grounding stone which can assist those who feel overwhelmed when it comes to the task of organization.
RED AVENTURINE – A stone of manifestation through action. It draws upon the elements of Earth and Fire to increase the flow of prana, or life force, in re-vitalizing the physical body and focusing its energy to get things done. It boosts vitality and mental alertness, and amplifies the desire to take on life's challenges with determination and perseverance. It inspires creativity and sexuality, and renews excitement and confidence in bringing one's projects, goals and desires into reality. 
Tag @crystalconscience - Share your experience or steps you are taking to cultivate this energy.