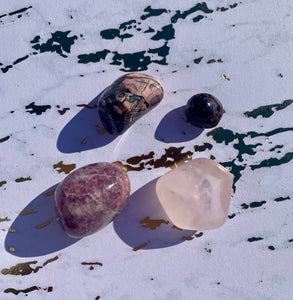 A selection of (4) handpicked crystals to encourage more unconditional love & healing into your life. No two crystals are alike, which is what makes each set special. Please note that the crystals in the photo are of the average size but may vary slightly between sets.
We ethically source our crystals and minerals from only small miners, giving them the opportunity to have better selling prices, while also bringing prosperity into their small community. All products are ethically-sourced in support of a Long Island local, Native American Shaman. Each item is diligently cleansed and blessed prior to shipment. 
The Love + Healing Set comes in a pouch containing the following crystals, as well as their relative descriptions: 
LEPIDOLITE - A "stone of transition", Lepidolite assists in the release and reorganization of old behavioral and psychological patterns, gently inducing change.  It brings deep emotional healing, soothing and reducing stress and depression. Lepidolite dissipates negativity and insists on being used for the highest good. It activates the throat, heart, third eye chakras and the intellect.  It opens the crown
chakra, clearing blockages and bringing cosmic awareness.  Lepidolite facilitates astral travel and accesses the Akashic Record. It helps to take you forward into the future, tuning you in to thoughts and feelings from other lives that are creating a blockage in your life now. Lepidolite aids in overcoming any kind of emotional or mental dependency, supporting in the release of addictions and complaints of all
kinds. It encourages independence and self-love and trust.
GARNET - A richly healing stone, Garnet's healing properties are plentiful. Whether shimmering red, green or gold, it's a stone that serves up self-confidence, sexual energy, and true sincerity. For those who need a helping hand in standing strong and proud on this earth, take a look at the multitude of beautiful benefits brought to the table by the Garnet gemstone. For those who have low libido or issues around
physical intimacy, bringing the Garnet stone into your life could be the best solution or kick-starting your sexual prowess. A powerfully sexual stone, the Garnet isn't afraid to light a fire in your loins, to bring a sweep of energy

ROSE QUARTZ - Rose Quartz is the stone of universal love.  It restores trust and harmony in relationships, encouraging unconditional love.  Rose Quartz purifies and opens the heart at all levels to promote love, self-love, friendship, deep inner healing and feelings of peace. Calming and reassuring, it helps to comfort in times of grief.  Rose Quartz dispels negativity and protects against environmental pollution, replacing it with loving vibes. It encourages self-forgiveness and acceptance invoking self-trust and self-worth.

RHODOCHROSITE - The Greek word for pink, the Rhodochrosite crystal meaning is associated with the rose, the symbol of love that can be traced back to the Incas, who called the stone Inca Rose. According to legend, these pink gems formed from the blood of their kings and queens. Ruled by the planet Venus, the Rhodochrosite crystal stone meaning comes from its healing pink hue, the color of love.
Like the soft petals of a rose, Rhodochrosite stones have sweet side effects like compassion, deeper emotional connections, and openness to love without judgment or expectations. The green leaves of the rose stem symbolize our potential for growth while the thorns remind us to face painful truths with
loving awareness.
Tag @crystalconscience - Share your experience or steps you are taking to cultivate this energy.