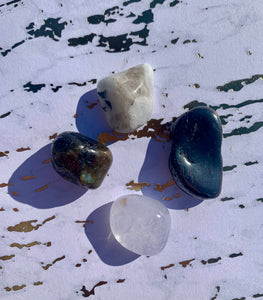 A selection of (4) handpicked crystals to encourage more New Beginnings into your life. No two crystals are alike, which is what makes each set special. Please note that the crystals in the photo are of the average size but may vary slightly between sets.
We ethically source our crystals and minerals from only small miners, giving them the opportunity to have better selling prices, while also bringing prosperity into their small community. All products are ethically-sourced in support of a Long Island local, Native American Shaman. Each item is diligently cleansed and blessed prior to shipment. 
The New Beginnings Set comes in a pouch containing the following crystals, as well as their relative descriptions:
PURPLE OBSIDIAN - naturally speaks to the psychic abilities within us. It is a stone that facilitates visions, revelations, and lucid dreams. It teaches us to look within ourselves for answers, and to trust our intuition and "gut feelings". It is a great stone for those who are just starting to realize their psychic abilities, and is a wonderful companion stone for those who are already practicing and want to keep their psychic energy rejuvenating. Purple Obsidian has a charming energy that keeps us true to ourselves and trusting our deepest, intuitive voice.
LABRADORITE – Its crystal properties remind us to keep it magical by linking us to the spirit world, a dimension where anything is possible. Other stones keep us anchored to the earth with their powerful grounding effects while Labradorite encourages us to keep our head in the clouds. Your Labradorite crystal stone inspires you to reach for the stars in your quest for a higher consciousness. It bridges the gap between the heavens and physical reality so that your dreams and aspirations don't seem out of reach. In this way, a Labradorite crystal is one of the most powerful stones that can support your intentions by encouraging you to go after what you truly want without placing any limits on what you can achieve.
HEMATITE - It strengthens our connection with the earth, making us feel safe and secure.  It endows us with courage, strength, endurance and vitality.  A "stone for the mind", Hematite stimulates concentration and focus, enhancing memory and original thought. Hematite utilizes the magnetic qualities of our yin-yang energies to balance the meridians within the body and to provide a stable equilibrium between the ethereal nervous system and the physical nervous system.  It focuses energy and emotions for balance between the body, mind and spirit. Dissolves negativity and prevents you from absorbing the negativity of others.  Hematite is strong, supporting timidity, boosting self-esteem and survivability, enhancing willpower and reliability, and imparting confidence. 
RAINBOW MOONSTONE - Their energy will help to balance the masculine-feminine vibrations within your body, will nurture your spirit and has a powerful vibration that may heighten psychic abilities. They are wonderful healing crystals for you make use of to assist aid you to embrace your gifts, and they have a vibration that will assist women to recognize and embrace their innate personal power. These beautiful crystals reflect within them the magical healing qualities of the vibrations of the moon. Within men, its energy may influence your brain, and aid you to become more emotionally balanced, as the right side of your brain is stimulated to become more creative. These lovely crystals are strong stones of the feminine principle, and may teach you many lessons about how you may choose to live your life.  They embody the energy of the Divine Feminine, and help you to feel confidence and serenity within your life
Tag @crystalconscience - Share your experience or steps you are taking to cultivate this energy.