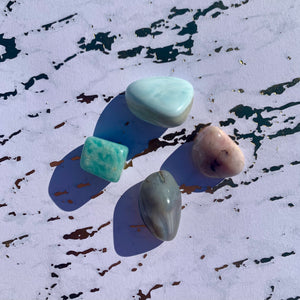 A selection of (4) handpicked crystals to encourage more Peace + Calm into your life. No two crystals are alike, which is what makes each set special. Please note that the crystals in the photo are of the average size but may vary slightly between sets.
We ethically source our crystals and minerals from only small miners, giving them the opportunity to have better selling prices, while also bringing prosperity into their small community. All products are ethically-sourced in support of a Long Island local, Native American Shaman. Each item is diligently cleansed and blessed prior to shipment. 
The Peace + Calming Set comes in a pouch containing the following crystals, as well as their relative descriptions:
STRAWBERRY QUARTZ - This stone will allow you to understand the very meaning behind your existence and what it is that you have to do and achieve in life that will allow your name to be etched in history. Once you're sure of the path that you want to take you to need to work day and night into making your dreams a reality because the divine realm would've given you the green signal to do so. With the help of this stone, nothing will be able to block your way to glory and all you have to do to get there is be open to the spiritual enlightenment being brought in by the stone. In the fast-paced lifestyle of the 21st century, Strawberry Quartz is the perfect way to get some peace of mind and relax even though there is a lot going on in your life. By providing inner peace, this stone will enable you to become spiritually centered and so strong on the inside that nothing happening in the physical world can disturb your rhythm.
BLUE HEMIMORPHITE - This stone gently relieves angst. Hemimorphite is linked to self-expression and communication. It is linked primarily to the throat chakra and as a result it stimulates an openness, and willingness to share who we really are. It promotes peace and understanding in the self, because of the openness it generates within. Blue hemimorphite returns joy to your life, promotes emotional ease, a sense of well-being and reduces emotional pain. Blue Hemimorphite enhances the communication of the truth of your feelings and can help in the process of healing dysfunctional relationships. Blue hemimorphite carries a frequency that clears and energizes the heart, throat and third eye chakras. It enlightens the emotional body, facilitates communication and builds bridges between hearts. It helps in resolving emotional issues within relationships and can help you express yourself more truthfully in matters of emotion. 
BLUE CHALCEDONY – A stone of peace and peace-making, Blue Chalcedony encourages stillness and calm in the home for those at odds with one another, vying for their place in the pecking order. It is also beneficial for daily journeys. Blue Chalcedony calms and centers the emotional energy field. It is an excellent crystal for those who tend to worry, by encouraging life in the present instead of projecting into an imaginary future. It also assists in calming those with bouts of irrational anger, fear, panic or anxiety, and helps those who speak too quickly before considering the impact their words have on others. 
AMAZONITE – Plunge into the cool coloring of Amazonite gemstones. Glimmering blue-green in its hues, Amazonite echoes with ancient tales, jungle magic, and the sweeping flow of one of the world's most mystical rivers. Nicknamed the Hope Stone, Soothing anxious dispositions and self-destructive thoughts is what Amazonite does best. It's also a brilliant gemstone to have on hand when you need to pull your self-esteem up by the bootstraps. Connected with the feminine, the Amazonite crystal works directly against habits of self-neglect, inviting you to always put yourself first. For those who struggle with past trauma, Amazonite can also bring its healing energy to help you step forward. By helping the mind filter out stress and anxiety and learning to let go of that which is not serving us any longer, it helps to patch up old wounds and make things seem much more manageable by breaking down big problems into bite-sized digestible pieces. 
Tag @crystalconscience - Share your experience or steps you are taking to cultivate this energy.