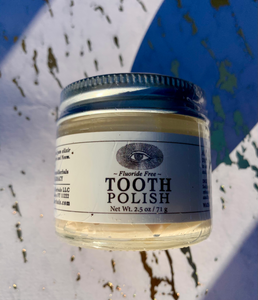 Anima Mundi Apothecary

TOOTHPOLISH : Fluoride Free
This toothpolish is a highly alkalizing plant paste filled with enzymes, minerals and pro-biotics. This nutritional polish is composed protective antimicrobial herbs, that also assist in detox and alkalinity. Our polish is an easy to use paste that can be brushed or massaged onto the gums and teeth. This is a great toothpaste, or added tonic to your daily oral care.
We purposefully chose a class jar as the toothpaste tube industry is massively destructive. We care to contribute to a sustainable alternative and necessary change! *RDH recommended!
INGREDIENTS: MCT Oil, White Kaolin Clay, Sodium bicarbonate, Peppermint Oil*, Stevia Extract, Myrrh Oil, Neem Seed Oil. *Organic
Warning this product contains tree nuts.
Made in United States of America