Crystal Conscience
Our mission is to facilitate one's connection to inner knowing and higher awareness, allowing them to tap into their own source of healing. Through harnessing the divine energies of prescribed tools and incorporating self-love affirmations into practice, we arrive in energetic alignment, harmonizing the union of mind+body+spirit. Invigorate your life and embrace your power by turning each & every thing you do into a ritual, elevating mundane, daily tasks. Harness the power of nature and begin your path to self discovery.

Using sustainable, earth-derived, nontoxic materials, we honor the traditions of ancient earth wisdom in this modern-day world. All products are ethically-sourced in support of a Long Island local, Native American Shaman. Each item is diligently cleansed and blessed prior to shipment. 
With Gratitude.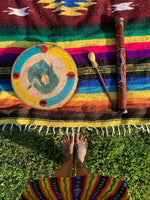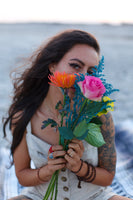 OUR FOUNDER - Adrianna Milonas
Adrianna is a New York native that has been bonded to nature since the womb. Growing up alongside the ocean beaches, most of her time is spent outdoors cherishing the plentiful gifts of Mother Earth. Whether its gardening, grounding, or saluting the sun- she's committed to feeling her way through opportunities to become more self and ecologically sustaining.
LEARN MORE
With Love + Light,
Crystal Conscience
Slide to see all Testimonials
Listen up. If you haven't experienced it yet, a Tibetan Tones sound session is exactly what you have been waiting for. It awakens the mind, body and soul. It stirs the senses. It elevates your body's ability to heal itself. It's AMAZING. I can't say enough good things about Adrianna's skills. Every session I've had with her is unique, beautiful and profound. I would do it weekly if I could. I've experienced sharp, piercing, loud tinnitus within 24 hours leading up to a session, that is then completely gone immediately following and relief lasts for a few hours (at least). I've felt anxiety melt away as if it was never even there. I've had headaches disappear. A dry, annoying cough from a hyperactive airway turn productive and dissipate over a few hours after a session. Emotional blockages released. And don't even get me started on the vivid messages I've experienced from the universe, angels, or whatever you want to chalk it up to. I tell people about Adrianna and TT sound sessions probably weekly, if not just about every few days. It is, by far, one of my absolute favorite self-care services that I receive. Thank you Adrianna for your beautiful energy & for sharing a safe space to allow souls like mine to journey and heal.

Kelli S.
I have been doing a unique service at emerge yoga. It is called Tibetan bowls with a very talented young lady her name is Adrianna. I have been having problems with my thyroid and blood pressure. I tried acupuncture and meditation. This has actually worked extremely well for me I am so happy I finally found something that can help my body and is also very enjoyable! My thyroid levels are back in normal range and my blood pressure is back to normal again too! Very exciting I did about five treatments so far once a week.

Angela
Experiencing a sound treatment was very invigorating. I came in with no expectations, being fully present in the moment in order to absorb a new experience. I had a lot of back pain before the first treatment, which after two treatments alone, much of the pain subsided. A lot of relief came to me, both physically and mentally. Days following after the first treatment, i noticed an elevated level of mental clarity, and with the second treatment, i felt an immediate sense of inner peace and tranquility. My body and mind are now very relaxed, which is the exact combination of what I need to feel whole and connected. I am grateful for this experience and highly recommend it to anyone looking for a deeper connection or understanding into their physical bodies and/or emotional states. 


Christine
My experience with the Tibetan bowls was truly profound. As the bowls are rung throughout the session, they are either on parts of your body or nearby. The vibrations go thru your body and the sound enters the ears. It is like they are on parallel highways that cause the participant to experience an unusual deep sense of calm, relaxation and peace. 
Adrianna walks you professionally through this fragment of time with soft-spoken comments and instructions. When the session ends you have a feeling mentally & physically that cannot be be experienced elsewhere.
I personally feel that this "happening" should be done periodically like a massage.

Ron T.
If you haven't tried sound therapy you are missing out! I went into my first sound therapy session with absolutely no idea what to expect. I have struggled with anxiety my entire life, but recently when my anxiety was at an all time high I decided to try something new. Adrianna walks you through the whole session and provides you with a safe environment to fully relax and connect with yourself. She takes the time to get to know you before each session, so she can provide you with exactly what you need and then takes time after the session to process your experience. I have found more than just relief from anxiety. I have gained inner peace, mental clarity, confidence and relief from physical pain in my neck and back. I no longer feel that tightness in my chest and feel like I can take full deep breaths again. I highly recommend taking the leap and trying this out!

Alisha