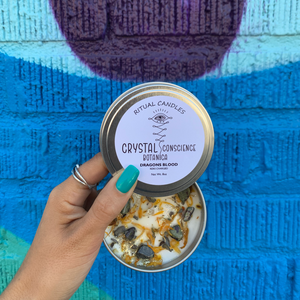 Reiki Charged 

Ritual Candle
Dragon Blood natural soy candle, with Dragons blood gemstones inside for grounding our lower Chakras, and protecting us from negative energy & spirits. Topped with Sage + Calendula to repel bad energy. Reiki charged.
Using candle gazing as a manifestation ritual and meditation, is the perfect tool to help you focus on your objectives, goals, dreams. It's a great resource to help guide your thoughts and ideas into a solid vision and allow you to have more direct focus on where you want your energy to go. 
Remembering to always connect back to the inner light within us. The inner flame that keeps our passions, creativity, and genius going. Allow your inner wisdom, insight, and drive to shine into every area of your life and being.
Become the energy you wish to attract! Speak to your candle daily... turn each and every mundane thing you do into a RITUAL.
Dragons Blood
Top:
 Orange, Orange Blossom
Middle:
 Cedar, Patchouli, Clove
Base:
 Incense, Tonka Bean
This fragrance oil is infused with natural essential oils including cedarwood, patchouli, clove, tonka bean, and orange.
Our womanufactuer who makes our candle line uses all natural soy, clean scents , that 
are free from carcinogens, reproductive toxins, and other potentially hazardous chemicals often found in fragrance. 
Burn time: approx. 20-25hrs
Candle Care: Burn 2-4 hours at a time then trim wick